Overview of Sites and Site Collections in SharePoint Server
The modern SharePoint experience is all about adaptability. Compared to Classic SharePoint, the structure is much more flexible, meaning that it can easily be molded to fit the needs of your organization today, and as those needs change over time. The challenge begins when you need to migrate this information to another server infrastructure. Tzunami Deployer´s new capability allows you to migrate in parallel several sites and site collections in the same execution.
Microsoft SharePoint is the most popular information management and communication platform.
It gives businesses the information management, collaboration, workflow, and data integration capabilities needed to advance business processes. A site collection is made up of one top-level site and all sites below it. It is the top level of organization in a SharePoint.
Site collections provide several advantages over independent SharePoint Online:
Managing multiple SharePoint Sites as one project is easier. You only need to set up permissions once, rather than for each individual SharePoint site.
Larger amounts of data stored in one place enable organizations to share the same content and SharePoint sites in a more effective way.
Permissions of a site collection administrator automatically apply to all sites within the site collection.
You can share a common, customized look and feel for your SharePoint Online environment by using master pages and page layouts.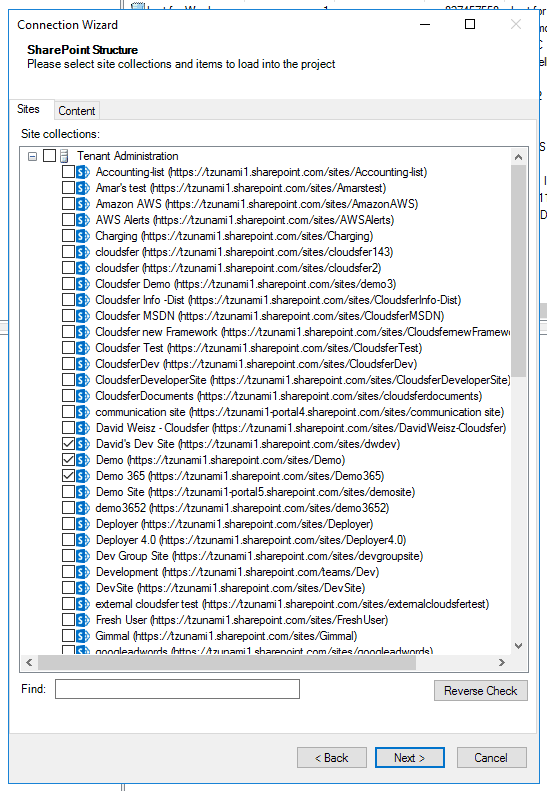 Deployer's new capability
Enterprises companies need a simple solution that migrates all an organization's content when required. Tzunami Deployer provides you the right tool with the ideal set of features for your migration needs. Just to mention a few of them:
Easy to use – powerful and dynamic graphic user interface, simple and easy to learn
Analyze – IT administrator will know exactly the expected size and items count that is required
Delta Migration – ability to understand which files were created or modified after your last migration
Security Management – as part of the content migration, users and groups permissions are migrated
Multi-System Support – Tzunami supports a variety of ECMs, allowing you to export content from multiple source systems from a single interface.
URL redirection – any request for an item already transferred is redirected to its new location in SharePoint
Version Management – choose the types of item versions to export
Scheduling – decide when to run the migration process
Today we are announcing a great improvement to Tzunami Deployer solution. We understand our customers and we know the amount of time consumption a migration requires. This is the reason we developed this new capability to allow you to execute the migration of multiple Site Collections from single application window.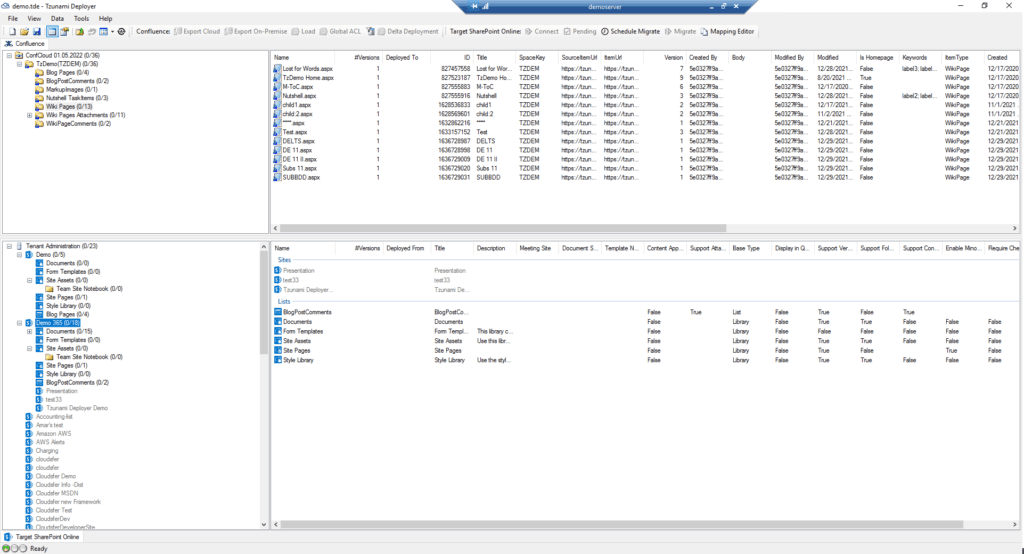 Why Tzunami?
Our technical team is available 24/7 to ensure you receive the maximum from Tzunami's products and solutions. With comprehensive resources and expertise to implement migration solutions, Tzunami provides cost-effective solutions to its customers.
Being a Microsoft Partner is a pride and at the same time a responsibility. We have a duty to all our customers using Microsoft and we must provide them the best tool to support their migration to Microsoft's products (SharePoint, OneDrive, Office 365, and Microsoft Teams).  Tzunami Deployer offers a suite of SharePoint migration tools for enterprises and professional SharePoint migration services.
Discover how our Migration Solution will help you get a successful execution