Our Team Just Makes It Work!
Tzunami Deployer was created by Tzunami Inc., the leading provider
and a pioneer in the data & content migration field. Tzunami 
Deployer's basic enables it to respond to all SharePoint 2007,
SharePoint 2010, SharePoint 2013 and Office 365 SharePoint Online
requirements offering solutions for migration from multiple sources.
If required, the Tzunami Deployer can be adapted to fit a clients
specific needs, resulting in a tailor-made product suitable for each
and every organization or company.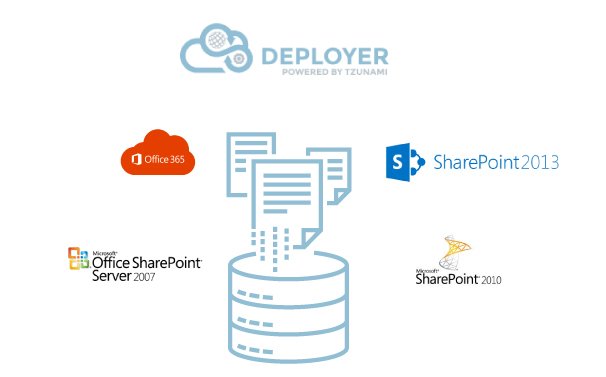 Cloud Migration and SharePoint Migration Services | Our Products
Tzunami distribute two products: Deployer & Cloudsfer.
Tzunami Deployer, the flagship migration tool, cuts down up to 90% of traditional migration time – reducing labor costs and providing rapid access to more accurate content. Offering a user-friendly solution to the current (sometimes complicated) business challenges, Tzunami Deployer effortlessly transfers data from less up-to-date Enterprise Content Management Systems (ECM) for example from Documentum To SharePoint, Confluence to SharePoint, Docushare to SharePoint and many more (click here to see all our supported systems for migration to SharePoint).
Cloudsfer is a migration solution for both cloud to cloud migration as well as On – Premise to cloud integrates over 20 Cloud Storage Providers at your fingertips, such as Dropbox, Google Drive, Box, OneDrive, Egnyte and many more!
Saving time and dramatically reducing total-cost-of-ownership, Tzunami Deployer automates the complete process of migrating unstructured content. Facilitating the groundwork of remote modeling and migration, Tzunami Deployer ensures the seamless planning offline (and even off-site), working on virtual simulations of both systems.
The company has R&D facilities and implementation teams based in North-America as well as Europe, and offers 24/7 comprehensive support. The strong track-record of serving leading global enterprises, boasts Tzunami's expertise and flexibility to deliver simple, fast and effective solutions for all client migration requirements.
With a team-based management approach and a history of success, Tzunami operates on principles of collaboration, knowledge and creative thinking.
Tzunami's management has both the capabilities and proven track-record of executing in a results-driven environment. The combination of business acumen with a broad range of technological expertise, help deliver the highest quality solutions, with immediate and long-term benefit to Tzunami's customers and partners.
Our technical team is available 24/7 to ensure you receive the maximum
from Tzunami's products and solutions. With comprehensive resources and
expertise to implement migration solutions, Tzunami provides cost-effective
support to its customers.
Possessing both technological and business acumen, Tzunami's customer
support team is standing by to help you achieve successful deployment of
existing data into SharePoint Platforms.
Tzunami's Support & Maintenance services
include the following components: