SharePoint migration is a complex process. If your organization is looking to migrate into SharePoint (e.g  Documentum to SharePoint), in order to complete a successful migration you will take some planning and analysis. In this article we are going to review what strategies and practices will help you go with your SharePoint migration.
SharePoint is currently the most popular content management and collaboration tool developed by Microsoft. It offers rich intranet capabilities, great document management system, communities, blogs, news, discussions and many other useful features that enables organization to work more efficiently and collaboratively.  SharePoint has the online version and On-premise versions include SharePoint 2013, SharePoint 2016 and SharePoint 2019. SharePoint adds tons of new features and improvements that meets modern business standards every new release. Office 365 migration is amongst the most widely used currently the most popular cloud platform on the market. It includes SharePoint online, OneDrive, Outlook, Microsoft Teams and more apps to use in the cloud. However, once an organization wish to migrate to Office 365 from Google Workspace (G Suite) for example, it's not an easy task. Tzunami's team is standing by to help you achieve successful migration into SharePoint Platforms (e.g Atlassian Confluence to SharePoint).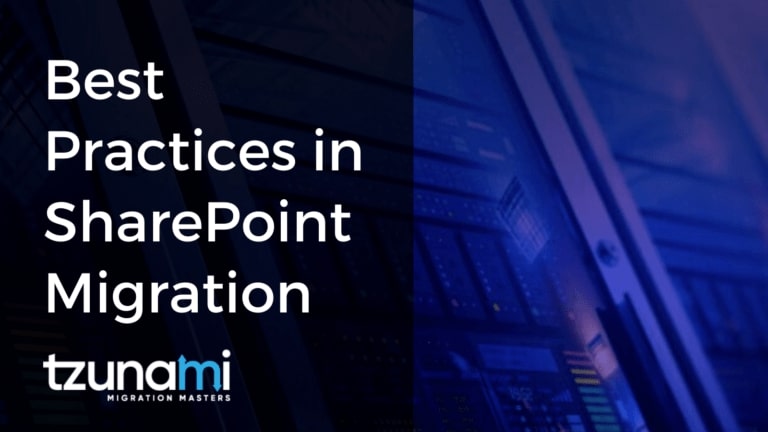 How to prepare for a SharePoint migration?
Discover
This will provide a clear understanding of what exists and what will be migrated. This will help flush out duplicate files, identify the content, and define metadata.
Plan
This step will identify 'who' (permissions), 'what' (type of documents/data and metadata), 'where' (sites/libraries/lists) for the information to be migrated to SharePoint on premise / SharePoint Online.
Prepare
This involves defining the process (scripts) to migrate the content into the new SharePoint farm. This will also involve the business users cleaning up the content (i.e, identifying the metadata and document/data types when the migration of the content is executed. Testing the whole process and verifying the results is extremely important before moving onto the Execute step.
Execute
Now the SharePoint Administrators can execute the scripts to physically copy the content to the correct place and resolve any issues that may result.
Verify
The business users will perform a final verification of the migration before the system is allowed to go live.
Once the execution is verified, the business may choose to keep the previous version of the content accessible in read-only format for a time period to ease the transition to the new version of SharePoint (e.g Xerox DocuShare To SharePoint).
Tzunami Deployer is a cost effective solution for SharePoint migration, minimize the risk of data loss and make the process much easier. The process start with an analysis, than export the data, load it, deploy at virtual migration environment and finally migrate into SharePoint.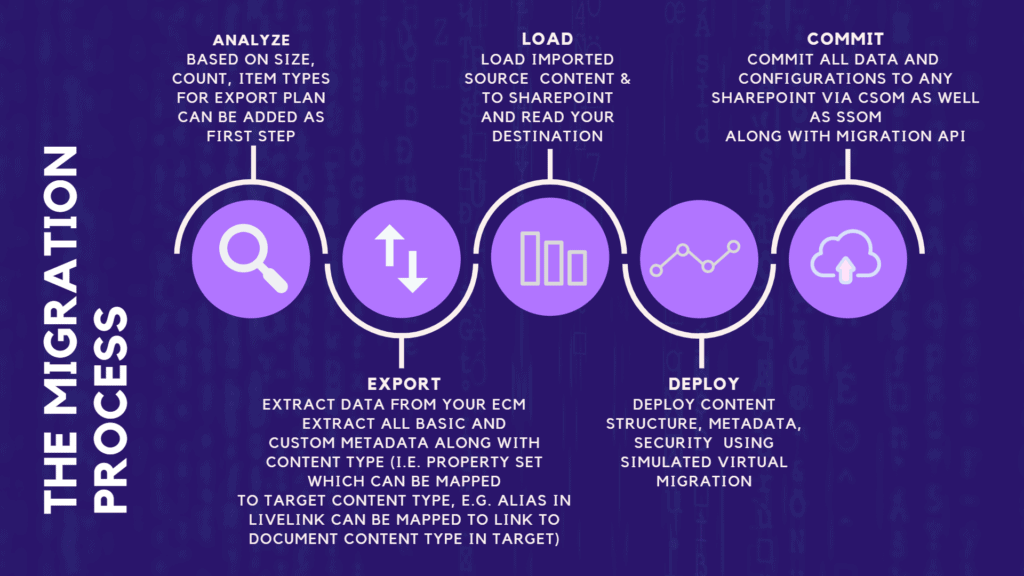 Best Practice for SharePoint migration with Tzunami Deployer's Solution:
Drag and drop: Deploy selected items from the source to a pre-determined location in the target. At this stage of the Deployment, you should already be aware of what you're dragging (site, list, etc.) and which properties you want to add accordingly.
SharePoint Limitations: Keep in mind SharePoint column limitations while adding missing properties.
Check your internet connection.
Filter: Using Deployer you are able to filter out version if needed.
You can choose to deploy different things each time: for example create a deployment without files and security at first
Check Reports for every step of the migration.
Launch Multiple Deployer Projects simultaneously.
Don't waste time: Commit another project as soon as the previous project finishes committing. Deployer can identify duplicate items across multiple Deployer projects by loading item lists to common LRS DB and handle duplicate items as desired as per Deployment Options.
Incremental and delta migration: It is recommended to limit changes to target SharePoint contents from outside of Deployer to avoid conflicts. In case of contents are modified on SharePoint, the relevant Deployer Projects need to be reloaded to reflect changes.
Scheduling different stages of your project at a time that is most convenient for you (commit & export).
Identify Issues: Save the export/deploy/commit reports and logs which contain any warnings or errors. After deployment, Deployer can show list of Problematic Items and allow for resolving that where possible. Using Find & Replace, operations can be performed in bulk as well.
Our technical team is available 24/7 to ensure you receive the maximum from Tzunami's products and solutions.