Today one of the most popular questions is what is the difference between SharePoint and Confluence?
There are many similarities between these tools, so choosing the appropriate tool may not be an easy task. Nevertheless, there are several fundamental differences between the two that need to be taken into consideration.
SharePoint has been around for more than 20 years and has over 190 million users around the world. It's particularly popular among large enterprises. SharePoint provides powerful knowledge management capabilities that allow teams to share and collaborate on documents, images, videos, and other content. It includes features such as version control, metadata, tagging, and search that make it easy to organize and find information. SharePoint also integrates with Microsoft Office applications, allowing teams to create, edit, and collaborate on documents directly within SharePoint.
Confluence is team collaboration software that offers a virtual workspace for teams to build, organize and collaborate on work in one place. With its user-friendly text editor, document approval workflows, audit trails, and pre-built templates, Confluence is the perfect tool for storing and documenting all types of information. Due to its standout features, the software became This year's Best Project Management Software of 2023 compiled by Forbes.
Both SharePoint and Confluence are widely used enterprise collaboration and document management platforms. Although they serve similar purposes, there are significant differences between the two. Let's dive into the technical comparison of Confluence vs SharePoint.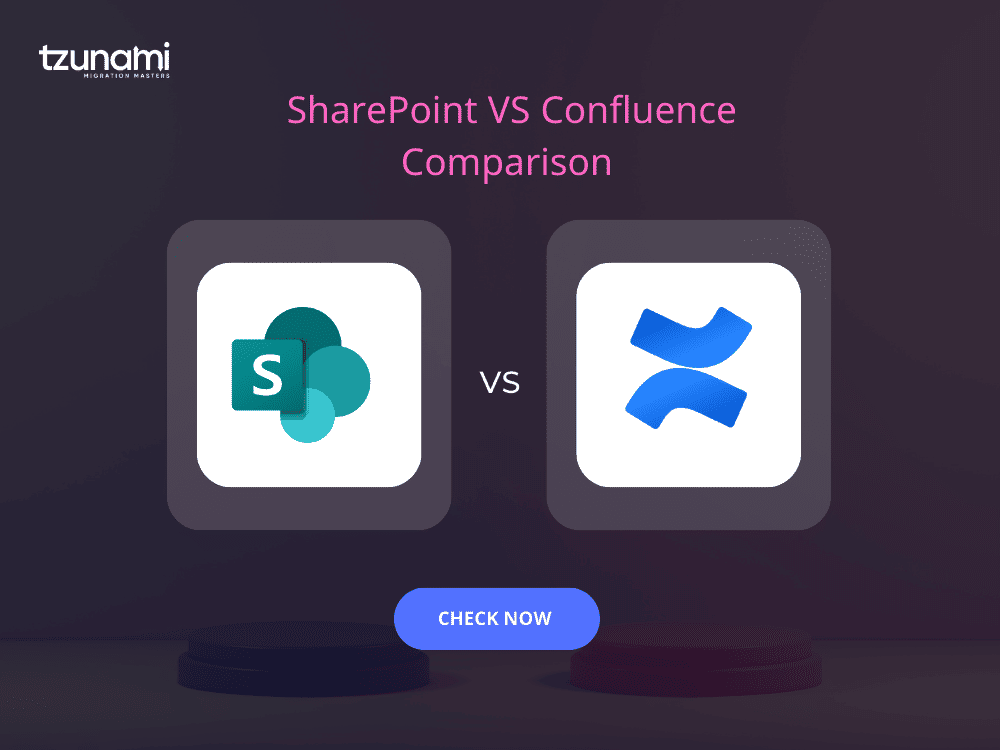 Architecture and Deployment
Confluence is a cloud-based solution that is hosted by Atlassian, which means that it is a Software as a Service (SaaS) application. It also has an on-premises deployment option. In contrast, SharePoint is an on-premises solution that can be deployed either on a company's servers or in the cloud using Microsoft Office 365.
User Interface and Navigation
Confluence has a user-friendly interface that is simple to navigate, with intuitive drag-and-drop functionality for organizing pages and content. It also features a clean and modern design that is easy on the eyes. Additionally, SharePoint's user interface emphasizes simplicity, intuitiveness, and accessibility, allowing users to easily navigate and interact with the collaborative environment. Users can customize their navigation menus to create their own personal workspace. SharePoint also offers powerful search capabilities, allowing users to find the information quickly and easily they need.
Collaboration Features
Both Confluence and SharePoint offer collaboration features such as document sharing, version control, and commenting. However, Confluence's collaboration features are more streamlined and intuitive, allowing teams to easily collaborate on projects in real time. In contrast, SharePoint's collaboration features are more geared towards document management, with less focus on team collaboration.
Integration
One of the main selling points of SharePoint is the integration with Office 365 and OneDrive. Your entire team can have access to all company documents in one central location without confusion or conflicting versions. In addition, SharePoint offers a wide range of integrations with other platforms and systems, making it a highly versatile tool for organizations. Here are a few examples: Microsoft PowerApps, Microsoft Teams, Microsoft Dynamics 365, Salesforce, and Power BI. Confluence integrates seamlessly with other Atlassian tools such as Jira, Trello, Bitbucket, and Google Drive. This makes it easy to manage projects and document them in parallel. It is important to note, however, that each of the Atlassian tools comes with an additional charge per user, which can result in an increase in your Atlassian billing every month.
Customization and Extensibility
From visual customization options to advanced version management, SharePoint offers a wide range of features that Confluence does not. SharePoint is highly customizable, with users able to create custom workflows, forms, and pages. However, there is a steep learning curve associated with these additional features. Confluence offers a high degree of customization, with users able to create custom templates, add-ons, and macros to enhance its functionality. It also has a vast marketplace of add-ons and plugins developed by third-party developers.
Security
Both Confluence and SharePoint offer robust security features, including data encryption, access controls, and authentication. However, SharePoint has a slight edge in security, with more granular controls over permissions and access to data.
Why organizations are Migrating Content from Confluence cloud to SharePoint?
Organizations are migrating content from Confluence cloud to SharePoint for several reasons. First, SharePoint offers a more comprehensive and integrated suite of collaboration and productivity tools, making it a preferred choice for organizations looking for a centralized platform for document management, team collaboration, and knowledge sharing. Additionally, SharePoint's tight integration with other Microsoft products, such as Office 365 and Teams, allows for seamless workflow integration and enhances overall productivity. Furthermore, SharePoint provides robust security and compliance features, enabling organizations to maintain control over their content and meet regulatory requirements. The migration from Confluence to SharePoint allows organizations to leverage the broader capabilities of SharePoint, streamline their content management processes, and enhance collaboration across teams.
Tzunami Inc. is a leading provider of data and content migration solutions with extensive industry knowledge. Tzunami Deployer for Atlassian Confluence enables migrating Atlassian Confluence content into any SharePoint products and technologies (such as Confluence Office 365 integration). Tzunami Confluence Cloud Exporter is an easy-to-use and convenient way to extract contents from Atlassian Confluence and load contents into Tzunami Deployer. There are a number of categories of content that can be extracted from the Confluence Server using the Tzunami Confluence Cloud Exporter: Spaces, Personal Spaces, Pages, Blogs, Bookmarks, Comments, and Attachments.
In conclusion, Confluence and SharePoint are both powerful collaboration and document management platforms that offer a range of features and capabilities. The choice between the two largely depends on the specific needs and requirements of an organization. Confluence is better suited for teams that prioritize collaboration and simplicity, while SharePoint is ideal for organizations that require advanced customization and security.